Ren Zhengfei: 'The world cannot leave us because we are more advanced' –
"There's no way the U.S. can crush us," Zhengfei told the broadcaster. "The world needs us because we are more advanced. Even if they persuade more countries not to use us temporarily, we can always scale things down a bit."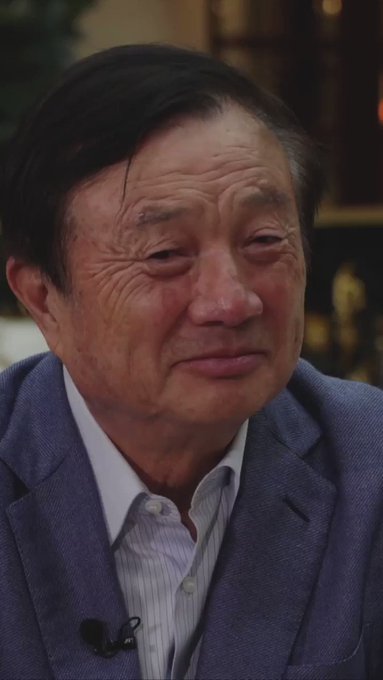 In an exclusive interview with the BBC, Huawei founder Ren Zhengfei describes the arrest of his daughter Meng Wanzhou, the company's chief financial officer, as politically motivated
The UK is set to make a decision on whether it will use Huawei's equipment in March or April, but the country's National Cyber Security Centre has reportedly found ways to "limit the risks" of its technology.

Ren said regardless of ban in the UK, Huawei will continue to invest in the country, and promised the company will increase its focus there if the U.S. doesn't work out.  
"We still trust in the UK, and we hope that the UK will trust us even more," he added. "We will invest even more in the UK. Because if the U.S. doesn't trust us, then we will shift our investment from the U.S. to the UK on an even bigger scale."
On the arrest of his daughter, Ren objected to the actions of U.S., calling them "politically motivated."
"The U.S. likes to sanction others, whenever there's an issue, they'll use such combative methods," he said.
"We object to this. But now that we've gone down this path, we'll let the courts settle it."
Related:
What Europe needs is not only the ability to distinguish between right and wrong, but also the courage to make its own independent choices. Europe's cooperation with  Huawei on construction of a 4G network is already an established fact, but it seems now that beneficial collaboration has become one of the biggest risks.
Related posts:
Reuters pic. The term 5G stands for a fifth generation — to succeed the current fourth generation of mobile connectivity that has made…
Ren Zhengfei, founder and chief executive officer of Huawei Technologies Co., speaks during an interview at the company's headq..