Extradition case: A home owned by the family of Meng Wanzhou, who is being held on an extradition warrant, is pictured in Vancouver. — Reuters
For Huawei CFO, an Idyllic Summer Playground Turns Into a Prison
Vancouver plays a special role for Meng Wanzhou, as it does for many a wealthy Chinese — a place to park some assets, educate  your children, and just let your hair down from time to time.
Meng — chief financial officer of Huawei Technologies Co., a telecom equipment giant present in more than 170 countries — would carve a few weeks out of her punishing travel schedule every year for a break in the Canadian city.
She'd time it for the summer, when her children would be there and when the city's crystal waters and craggy mountains would emerge from 10 months of rain to be  bathed in long, golden days of sunshine. Just last August, she was seen strolling through a local park, snapping photos with her in-laws.
Her place of retreat has now become a jail. On Dec. 1, Meng stepped off a Cathay Pacific flight from Hong Kong around noon, and had planned a 12-hour stopover in Vancouver before heading on to Mexico. Instead, she was arrested by Canadian  authorities and faces a U.S. extradition request on charges she conspired to defraud banks, including HSBC Bank Plc, so that they unwittingly cleared millions of dollars in transactions linked to Iran, in violation of U.S. sanctions.
This time, her stay looks to become an extended one — extradition cases can sometimes take years. Whether she spends that time in a cell or under house arrest may hinge in part upon her ties to Vancouver and if they're considered deep enough to stop her from fleeing.
Meng's bail hearing resumes Monday at 10 a.m. local time. It's expected to last the whole day as her defense team calls witnesses, including security companies, to testify on ways to address flight risk.
"In essence, Ms. Meng vacations for two weeks in Vancouver — I say that is not a meaningful connection to this jurisdiction," Crown attorney John Gibb-Carsley said Friday at the six-hour bail hearing in Vancouver as more than 100 spectators watched from a glass-walled gallery.
Meng — wearing a dark green sweat suit, her posture impeccable — watched from the back of the courtroom with her interpreter, occasionally taking notes on a sheet of paper. The 46-year-old has an incentive to flee home to China, which has no extradition treaty with the U.S., and she has the vast resources and connections to remain out of reach indefinitely, Gibb-Carsley said.
Canada has long been a favored destination for millionaire migrants, and Vancouver, especially, for the Asian ones. But increasingly that's been stoking tensions in a city  awash in Chinese cash, with wealthy part-time residents blamed for property prices that have made Vancouver the most unaffordable city in North America.
Meng, who first visited Vancouver 15 years ago, bought a six-bedroom house with her husband Xiaozong Liu in 2009 that's now assessed at C$5.6 million ($4.2 million),  according to property records and an affidavit by Meng read aloud in court. In 2016 they bought a second property, a brick-and-glass mansion set in a 21,000-square-foot lot assessed at C$16.3 million. Purchased with mortgages from HSBC, she's offered to
post the family's equity in both as part of her bail.
Meng and Liu live in Shenzhen with their 10-year-old daughter. She also has three
sons from a previous marriage, one of whom attends a prep school in Massachusetts. If granted bail, the family would move into one of their Vancouver homes and the son in Massachusetts would join them for Christmas, Meng's lawyer told the court.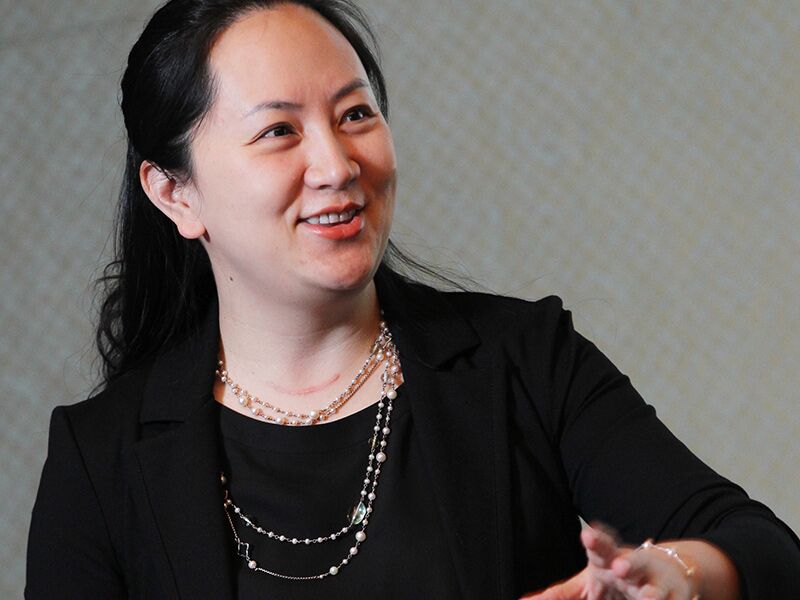 Meng WanzhouPhotographer: Dennis Zhe/Huawei Technologies Co.
Three of her four children have done part of their schooling in Vancouver, and they still spend weeks — sometimes months — in the city during summer. Meng, who also goes by the names Sabrina and Cathy, holds two passports, one from China and one from Hong Kong, and until 2009 also had Canadian permanent residency.
Her defense argues that those ties are substantive, and proposes she wait it out at one of her houses, under surveillance, tagged by a GPS device, and subject to  nannounced
police checks.
"She would not flee," Meng's defense lawyer David Martin responded. "She has a home here."
Meng is the daughter of Huawei's founder Ren Zhengfei, whose net worth was  stimated at $3.2 billion, according to Gibb-Carsley. A million-dollar bail to that family is equivalent to a C$156 bail for an upper-middle class Canadian family with C$500,000 in assets, he said.
"I'm not saying that wealthy people can't get bail," said Gibb-Carsley. "But I'm saying in terms of magnitude to feel the pull of bail, we are in a different universe." – Bloomberg

Sabrina Meng in her own words: Huawei CFO cites health problems in her bid to secure bail in Canada
The US is seeking to extradite Meng in relation to Huawei's alleged use of an unofficial subsidiary, Skycom, to skirt sanctions on Iran
Sabrina Meng Wanzhou, the chief financial officer of Chinese telecommunications  giant Huawei Technologies, was arrested last Friday in Vancouver, Canada at the request of the US and accused of fraudulently representing the company to get around US and EU sanctions on Iran.
The US is seeking to extradite Meng in relation to Huawei's alleged use of an unofficial subsidiary, Skycom, to skirt the sanctions, a lawyer representing the Canadian  government said. Meng was arrested at Vancouver International Airport on December 1 as she changed planes and has been detained ever since.
Meng, a daughter of Huawei founder Ren Zhengfei, attended the British Columbia Supreme Court last Friday for a bail hearing, as the US seeks her extradition on fraud charges. The hearing ended without a decision and will continue on Monday.
Ahead of the continuation, here are some of the details of Meng's personal affidavit filed with the Supreme Court:
Meng describes herself as a 46-year old Chinese citizen, holding a Hong Kong and Chinese passport, who lives in Shenzhen.
Meng says her family have extensive ties to Canada, and Vancouver in particular.
Although Meng relinquished permanent resident status in Canada, she says her family have bought two homes in Vancouver.
Those two homes include a property bought in 2009 with her husband at 4005 28th Street, and another at 1603 Matthews Street in 2016.
Meng says she tries to spend at least 2-3 weeks in Vancouver every summer. Since 2012 her children, who attended school in Vancouver, no longer live there.
After being detained and interrogated at Vancouver International Airport on Friday, Meng says she was taken to Richmond General Hospital after feeling unwell due to severe hypertension, a condition she has struggled with "for years".
Meng says she continues to feel unwell and is worried about her health "deteriorating" while she is incarcerated. Meng says she has had numerous health problems throughout her life, including thyroid cancer, for which she underwent surgery in 2011.
In May 2018, Meng says she had surgery to remedy health issues related to sleep apnoea and still has difficulty eating solid foods – which has caused her to modify her diet. She has received daily packages of medicines from her doctor for years to treat her ailments.
Meng points out she has no previous criminal record in China or anywhere else.
If she is granted bail, Meng offers to surrender both her passports, to live at her home at 4005 28th Street, to have her family live with her as permitted by Canada's immigration laws, she is willing to pledge the equity of either or both her houses as security, or to make a cash deposit as directed by the court.
Meng says she would not breach any bail conditions because of the reputational damage it could do to Huawei, the company her father founded.
Finally, Meng says she is innocent of the allegations levelled against her and will contest the allegations at trial in the US if she is ultimately surrendered.
Case: In the matter of the Extradition Act, S.C. 1999, c. 18 as amended in the matter of the Attorney General of Canada on behalf of the United States of America and Wanzhou  Meng, also known as "Cathy Meng" and "Sabrina Meng".. – South China Morning Post
Related posts:
In custody: A profile of Meng is displayed on a computer at a Huawei store in Beijing. The Chinese government, speaking through its emb…
> https://youtu.be/WvrXDbRy8dU  https://youtu.be/OzCKON8KT2E https://youtu.be/SaQKhepUEOM https://youtu.be/2KpC1OzIYyM
Related: